Decorating a small office need not be a chore, but getting started can be difficult especially if you are working in a typical sterile office. Here are five ideas to get your mind thinking about what is possible to liven things up:
1. Paint the walls a bold color
Orange, red, green, purple – whatever will break the monotony of white, beige, and grey. Bonus points are awarded for co-ordinating furniture and accessories.
New to color? Check out our Beginners Tips for Office Color.
2. Hang up some artwork
No, we don't mean a Rembrandt. Just something abstract.
You can often pick up large colorful canvas prints for relatively little money at framing shops, general art shops, even Ikea.
If you have a bit of time you can make one yourself. Purchase a large blank (white) canvas from an art supply store, and simply paint it! You only need one color, such as a dark red, to break up a large blank wall space.
3. Feature wallpaper or mural
Sometimes a colored wall or a piece of abstract art isn't enough. You want something really out there! Try a wallpaper or mural to transport your office somewhere else. This example came from Murals Your Way and there are many out there who can do this kind of work for you:
4. Introduce a live plant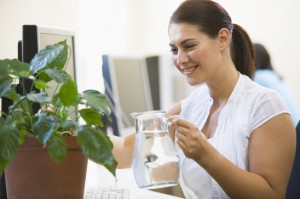 Indoor plants are easy to maintain and can really lift a work environment. Studies have shown that being around plants can improve concentration, memory and well-being.
You can go for a smaller plant to place on a desk, or something larger to fill a corner.
If the thought of green foliage seems a little odd, why not try a succulent such as a colorful mini cactus? Practically zero maintenance and looks great too!
5. Huge Whiteboard or Pin Board
Finally you could try a huge (wall-spanning) whiteboard or pin board as a community space. Luckily if your office is small you can probably source an off-the-shelf board at your favorite office supply store.
Encourage staff to post up ideas, affirmations, photos, product samples or prototypes, etc. Make it a living piece of furniture, constantly changing, and giving staff something to mull over if they are looking for inspiration.
So there you go: five decorating ideas for your small or home office. Have you seen any other cool ideas out there? Please share a comment of what you saw that works really well in a small office.